Everyone knows that electronic records must be protected. But not many are aware of the ways that will help to do this. The most common cryptographic technologies are encryption and e-sign.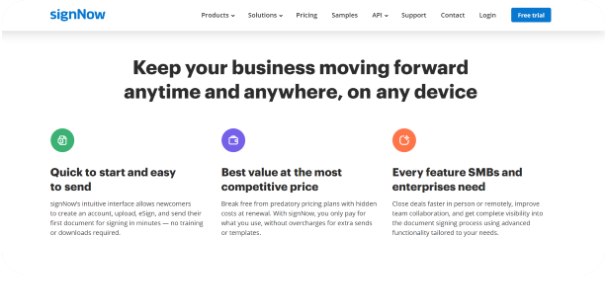 Essentially, a signature is a collection of numbers and letters. It is attached to every message and guarantees its authenticity. Also, with its help, you can understand that it was this particular person who sent the letter. An electronic signature protects not only the sender but also the recipient. This method is considered the best way to guarantee authorship. It preserves the integrity of the document until you decide to delete the message.
SignNow is the best solution for people who want to get an electronic signature free. Huge functionality will help you sign documents, conclude deals, and do other operations on the Internet without even leaving your home. You will soon realize that this service helps you work with documentation of any format. Your data uploaded to the server is completely safe. The developers have built several encryption protocols into the functionality. Therefore, all information will be completely confidential.
What Is an Electronic Signature, And Why Is It Needed?
An electronic digital signature is considered to be analogous to the one that you put with your own hand. There is the same legal effect on this data protection method. But it is not on paper, as it resembles a set of digital electronic data.
An electronic signature is always supported by a special key. This is a document that guarantees the authenticity of information and identity.
An electronic signature is accepted on state websites and is valid when documents are signed. It is used to file tax returns. Also, this technology is important for government officials who constantly send documents via email.
But an electronic signature is also suitable for ordinary people. It helps to get various online services using a computer or phone. With its help, you can apply for registration:
subsidies;
marriage;
the birth of a child;
copyright;
payments per child.
An electronic signature is needed when receiving a police clearance certificate, family composition, application for the appointment, or recalculation of a pension, registration, or discharge. If you need to register a public organization, you can also do this online. In fact, these are not all services that require an electronic signature. Moreover, this list is constantly updated.
Implementation Method
The implementation of an electronic signature is possible using the public key infrastructure. Each user issues a public and private key. The open one will be available to everyone, and only the user will know the closed one. Below, we decided to show you an example of the implementation of an electronic signature.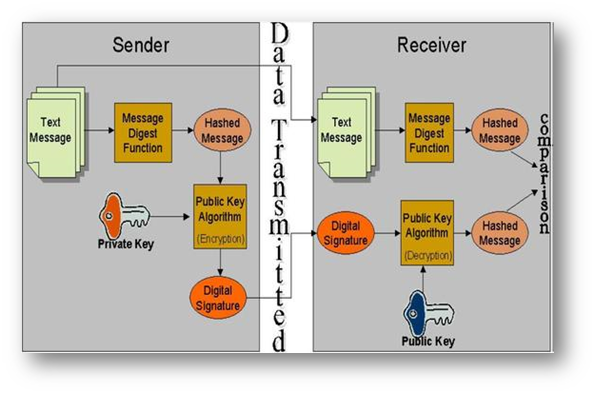 When a person wants to send a text message and attaches a digital signature to it, the algorithm would be like this. First, a letter with a hash code is created. This combination is generated using a special built-in function. Such a letter is already considered safe. Then a digital signature with a public key is attached. In the end, the hash code of the private key is signed.
When the recipient opens the letter, he must calculate 2 specific values. The first includes the ciphertext, and the second a public key, with which the message can be read. If the first signature is decrypted quickly and easily, then a private key was used for encryption. Decryption is carried out by the recipient itself.
Security Question
Documents signed with an electronic signature SignNow can automatically be considered real and authentic. They are reliable since it is almost impossible to change the message format. The signed documents are represented by cryptographic algorithms and various protocols. They are created using a software solution, on the basis of which the electronic signature itself is generated. Dividing the key into 2 parts further increases security. After all, the open one can be used to decrypt the message, but the closed one only knows the author.
Why Trust SignNow?
SignNow offers more than just registration of electronic signatures. You get a lot of tools to help you manage your documents, making your work faster, faster, and easier. Among the advantages of the service, it is worth noting:
Intuitive interface. You can upload any documents to the platform SignNow service in just a few mouse clicks. You don't need any additional training.
SignNow is targeted at small and medium businesses. Therefore, you can quickly close deals without leaving your home or office.
SignNow offers several pricing plans. Each of them is designed for people who require it. At the same time, the cost of tariff plans is quite acceptable for everyone.
The service SignNow is available to everyone. He is considered the recognized leader in the digital signature niche. Our client base includes people from Fortune 100 and ordinary private users.
The company SignNow is part of AirSlate. Therefore, you can take advantage of their work tools to automate your business.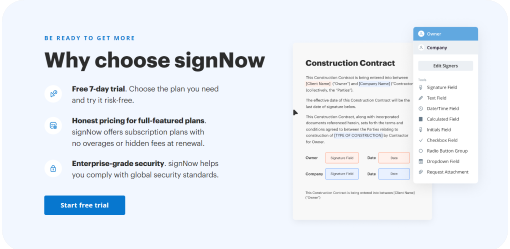 With the SignNow service, you can make sure that an electronic signature is really simple, modern, and fast. Your business will receive a new development opportunity. In order to get additional advice, please contact our managers today. They will help you buy an electronic signature and will answer all your questions.
Any business, regardless of the size of the profit, must develop. With an electronic signature SignNow service, you can carry out all transactions without leaving your home. The business will become simpler and clearer.